Mission trips (work camp)

The young people and adults who care for them have unique opportunities each summer to serve as Christ's hands and feet in the world, step out of their comfort zones and learn what it means to be a missionary disciple. By making a pilgrimage to a different city, living in community with other teens from across the country, powerful praise & worship experiences, celebration of the Sacraments and serving those who society often leaves behind, our young people grow in a deeper understanding of what love in action means.

We had an incredible time serving the people of the Mishawaka, IN area in June through Catholic Heart Work Camp. We all came back ready to ECHO Christ's love in all that we do. Check out the video below to get a glimpse of what the experience was like!

We are already beginning to plan for our summer 2019 mission trips and we are excited to once again offer TWO different opportunities to serve. For those who want to stay closer to home, we are partnering with Divine Savior and Our Lady of the Lakes with a trip to Steubenville, OH from July 14-19, which is open to current eighth graders and older. (This is a change from what was originally stated...our first camp filled up before we had a chance to get in!) For those who are ready for a different kind of experience, we are excited to offer a service experience in Puerto Rico, from June 8-15, 2019, open to current freshmen and older. Both camps will be through Catholic Heart Work Camp. As of September 12, both camps are now full. If you are interested in attending either camp, complete the registration form to be added to the waiting list. More information is available by contacting the Youth Ministry office.

To sign up for fund raisers, click on the "Sign Up Genius" button here.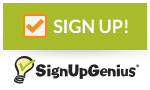 We want these experiences to be open to ALL our young people, regardless of family financial situation, so we will make several fund raising opportunities available. For information on how fund raising works, check out the video below or contact the Youth Ministry Office.