Mission trips (work camp)

The young people and adults who care for them have unique opportunities each summer to serve as Christ's hands and feet in the world, step out of their comfort zones and learn what it means to be a missionary disciple. By making a pilgrimage to a different city, living in community with other teens from across the country, powerful praise & worship experiences, celebration of the Sacraments and serving those who society often leaves behind, our young people grow in a deeper understanding of what love in action means.

It was an amazing experience to serve the people of Puerto Rico in 2019. We truly were RADIANT with Christ's love during the week and our lights continue to shine from this opportunity. Thanks for all the prayers and support in making this happen. Check out the video below to get a glimpse of what the experience was like!

Due to the ongoing pandemic, we have had to cancel this summer's mission trip but we are already planning for next summer as well as some local service opportunities.
We are
called to illuminate
our Catholic faith in our lives and the lives of others through our words and deeds. Each of us can be a source of light to a darkened world when we lead with love and keep our eyes fixed on Jesus, for He assured us in John 8:12 when He said, "I am the light of the world, He who follows me will not walk in darkness, but will have the light of life."
Traveling to other areas allows the teens to remove themselves from day to day activities and distractions and puts them into an environment where their faith will be nurtured through the people they will meet, the residents they will serve and the evening programs. In addition to service, CHWC programs involve fun activities, praise and worship music, witness talks, meaningful skits and special events such as Eucharistic Adoration, daily Mass, four corners prayer stations (with Reconciliation) and a night of reflection with the people they will be serving. These mission trips have proven to be a life changing experience for many of the youth and adults involved. We ask that you pray for all involved to have a safe trip and that the experience will touch the hearts of all concerned: those who are serving and those who will be served.
To follow our pilgrimage,
check out our Facebook page!
To sign up for fund raisers, click on the "Sign Up Genius" button here.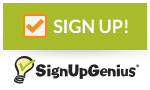 We want these experiences to be open to ALL our young people, regardless of family financial situation, so we will make several fund raising opportunities available. For information on how fund raising works, check out the video below or contact the Youth Ministry Office.